Microscope
Biological Compound Microscope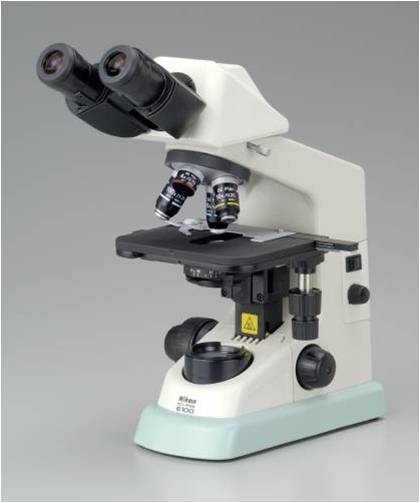 Model : NIKON E 100
Spesifikasi :
Optical system : CFI Infinity Optical System
Magnification range : 40 – 1000 X
Nosepiece : Quadruple click-stop nosepiece
Eyepiece tube ( anti-mold) : Binocular tube ( inclination : 30° ; 360° )
rotatable Siedentopf-type, Interpupillary distance : 47-75 mm)
Eyepiece lens ( anti-mold, made of glass) : E1-CFI 10X ( F.O.V 18 mm) ,
Focusing : Coaxial coarse/ fine focusing; Coarse motion: 37.7mm per rotation.
Fine motion : 0.2mm per rotation with 2µ m scale increments
Stage : Double-plate rectangular mechanical stage;
Stage size : 155( W) x 134( D) mm;
Removable slide holder : Travel area 76 x 40mm
Condenser : Abbe condenser ( made of glass) , N.A 1.25, with blue filter
Objective ( made of glass) : CFI Plan Achromat 4x, 10x, 40x, 100x oil
Illumination : 6V-20W halogen lamp, lamp changeable by
Available options : Trinocular head, phase contrast attachment,
object marker, darkfield ring, mirror unit, wooden case, aluminum case
---
Biological Compound Microscope
Model : NIKON E 200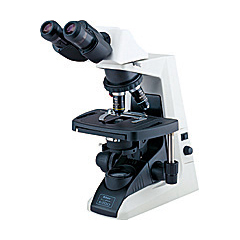 Spesifikasi :
Optical system : CFI60 ( infinity optical system) Parfocal distance: 60mm
Magnification : 40-1500X for observation / 8-500X for 35mm photomicrography
Eyepiece : CFI E 10X ( F.O.V.: 20mm) , CFI E 15X ( F.O.V.: 12mm)
Photo lens : PLI projection lens 2X, 2.5X, 4X, 5X
Coarse/ fine : Focusing Fine : 0.2mm per rotation, Coarse: 37.7mm per rotation, Minimum reading: 2 microns on left-side fine control knob, Coarse motion torque adjustable, Refocusing system incorporated in stage, Stage handle and focusing knob are at equal distance from the operator
Stage : Rectangular 216 x 150 mm surface stage mounted on the main body. Cross travel 78 x 54 mm using low-positioned X/ Y coaxial control knobObjectives : CFI E Plan Achromat 4X N.A. 0.10 ( W.D. 30mm) CFI E Plan Achromat 10X N.A. 0.25 ( W.D. 7.0mm) , CFI E Plan Achromat 40X N.A. 0.65 ( W.D. 0.65mm) CFI E Plan Achromat 100X Oil N.A. 1.25 ( W.D. 0.23mm) As an option, CFI Achromat DL and other higher-grade CFI60 objectives can be used
---
PEAK Pocket Microscopes 25x & 50x Zoom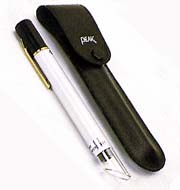 Pocket measuring microscope with reticle. New selected the models of 25X and 50X Pocket Microscope series, with incorporated scales into their lens barrel. The Reticle is cross hair with horizontal scale.

To focus the microscope, hold it so that the notch at the tip of the acrylic cylinder of the microscope faces towards you, place the center of the object lens above the specimen and while tilting the cylinder forward and backward with your eye on the eye-piece lens, fix the cylinder and adjust to the best angle which can give the sharpest image.

Spesification :
2036-25
Magnification: 25x
Field of view 3.30mm
Scale divisions = .05mm
Measuring range 3.0mm

2036-50
Magnification: 50x
Field of view 2.00mm
Scale divisions = .02mm
Measuring range 1.6mm
---
Biological Microscope
Model : NIKON SMZ 445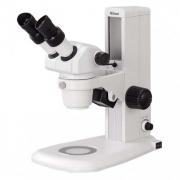 The SMZ445 and SMZ460 deliver the outstanding optical performance you expect from Nikon' s cutting-edge series of stereoscopic zoom microscopes. Porro prisms enable a lightweight, compact design. Choose between the two models: the SMZ445 with 0.8x ~ 3.5x zoom magnification or the SMZ460 with 0.7x - 3.0x zoom magnification, inclination angles of 45 degreesor 60 degrees respectively.

With the new diascopic/ episcopic LED Stand, these microscopes let you observe a wide range of specimens, from Petri dishes to plants, insects, small animals and minerals. Dedicated eyepiece lenses with diopter adjustments for parfocality.

Combining the SMZ445 with 20x eyepiece lenses enables observation at a maximum of 70x. Rubber eyecups are available for the 10x eyepiece lenses. Simply attaching an auxiliary objective lens achieves a wider field of view and longer working distance. Two type are available, 0.5x ( WD 181mm) and 0.7x ( WD 127.5mm).
---
Mini Field Stereoscopic Microscope
Model :
NIKON 20x
This portable 20x microscope allows stereoscopic, 3-D viewing in both the classroom and the field. Fully adjustable, the microscope has a pivoting head for easy observation of large subjects. This durable yet lightweight microscope is dustproof and water resistant. Tripod adaptable.
---
Biological Microscope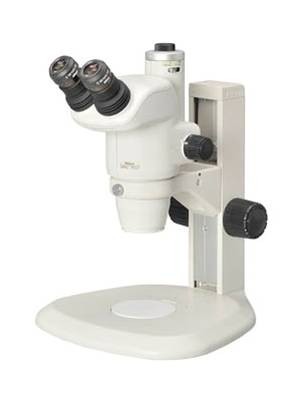 Model : NIKON SMZ 745T
Type : Greenough optical system
Total magnification : 3.35 to 300x ( Depending on eyepoiece and auxiliary objective used)
Zoom Ratio : 7.5: 1 ( approximate)
Zoom range : 0.67x to 5.0x
Eyepieces ( FN) : C-W 10XB ( FN 22) , C-W 15X ( FN 16) , C-W 20X ( FN12.5) , C-W 30X ( FN 7)
Eyepiece Inclination : 45 degrees
Interpupilary Distance Adjustment : 52mm to 75mm
Beam Split Ratio ( Right eye) : Right/ Photo Port: 100/ 0, 0/ 100
Tinocular Photo Port Magnification : Tube lens 0.55X built-in with C-mount
Working Distance : 115mm
Auxiliary Objectives/ ( working distance) : G-AL0.5X ( 211mm) , G-AL0.7X ( 150mm) , G-Al1.5X ( 61mm) , G-AL2X ( 43.5mm)
Eyepieces with Diopter Adjustment : C-W 10x ( F.N. 22) ; C-W 15x ( F.N.16) ; C-W 20x ( F.N. 12.5) ; C-W 30x ( F.N. 7)
---
KEN-A-VISION® PupilCAM®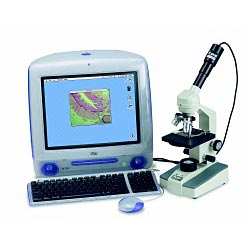 with Applied Vision Software
Portable and easy to use, the PupilCAM is ideal for the classroom. The PupilCAM slides directly onto your microscope eyepiece and transfers full screen, high resolution digital images from the microscope directly to your computer screen. The Applied Vision software ( included) allows for FTP uploading and video streaming. Using the software, you can preview images, zoom in on images, capture still images, view multiple galleries, record movies, and do digital panning and tilting.

The PupilCAM fits most microscopes, and the adapter' s rubber grip securely and precisely aligns the camera over the microscope' s eyepiece. A pre-attached USB 2.0 cable allows for direct interface with your computer. Macintosh and Windows compatible. System requirements: 233 Mhz Pentium, Microsoft Windows 98+ , Internet Explorer 4.0, 8 MB Video Card ( 16 bit color) , 60 MB of free hard disk space. VGA resolution: 1240 x 960.
---
Binocular LED Microscopes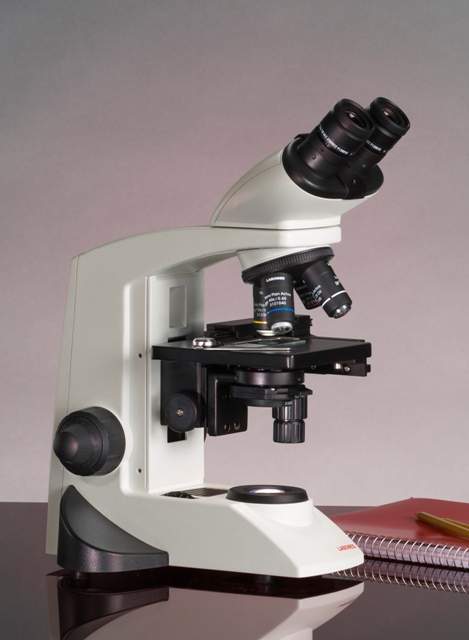 Model : LABOMED CxL
Stand Single mold sturdy stand with anti rust materials. Extended base for better stability
Viewing Bodies 45° inclined, 360° rotatable, Inter-pupillary distance 54 - 74mm
Eyepiece Wide field focusable paired eyepiece 10x/ 18mm with foldable eye guard, lockable
Nosepiece Quadruple Nosepiece ( Ball bearing type) with rubber grip
Objectives LP series DIN Semi Plan Achromatic objectives 4x, 10x, 40x ( spring loaded) , 100x ( spring loaded, oil) , anti fungus
Mechanical stage Rectangular stage size 135 x 124mm, X/ Y travel range 76mm x 50mm. Low drive movement controls, single specimen holder
Condenser Sub stage Abbe condenser NA 1.25 with aspheric lens. Iris diaphragm with snap-in blue filter. Rack and pinion movements on metal guides
Focusing Co-axial coarse and fine focusing on ball drive system for smooth operation. Fine drive movement 0.3mm/ rotation
Illumination: LED -100, 000 hours of LED lamp life.
Optional: Halogen 6V-20W illumination with variable illumination control. Up to 2, 000 hours of Halogen lamp life oil
Electrical Universal input 1OOV- 24OV AC, 50/ 60Hz
Optional accessories available: Phase contrast kit with 10x/ 40x LP series Phase objective, Darkfield kit, Polarizing kit, Green Filter; Video adapter, Labomed Digital cameras
---
Binocular Led Microscopes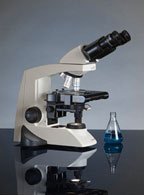 Model : LABOMED LX 400
Infinity Corrected Plan Achromatic objectives and extra wide field eyepieces provide brilliant images with pristine color fidelity and superb contrast. Binocular head is inclined 30° , 360° rotatable, and has an interpupillary distance of 48-75mm.

Strain-free operation is provided through an extremely ergonomic design with comfortable hand rests and a conveniently positioned focus drive. The mechanical stage is rackless in X direction. Energy friendly LED light source.

Eyepiece : Focusable WF 10x with foldable eye guard.
Field of View : 20mm.
Objectives : RP Series 4x, 10x, 40x ( spring loaded) , 100x ( spring loaded, oil)
Electrical : Universal input 100V-240V AC.
---
Microscope Hybrid
Model : CARTON SOLARIS CM 300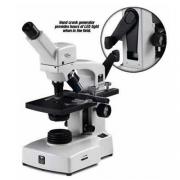 Ideal for use in the classroom and in the field, these microscopes have three types of power sources – AC, DC and a self-contained power generation. One minute of cranking the built in generator gives you up to 1 hour of Green Friendly LED power. Other features include die cast aluminum construction, separate coarse & fine focus controls, and a slip clutch system to protect gears. Available in two configurations. Lifetime warranty from the manufacturer.

CM303H Hybrid Power Microscope Head
Monocular Eyepiece : W10XD 18mm
Objectives : 4XD, 10XD, 40XRD ( sealed)
Condenser : Built-in 0.65 N.A. with Disk Diaphragm
Illuminator : Rechargeable LED w/ Dimmer Switch

CM304H Hybrid Power Microscope Head
Monocular Eyepiece : W10XD18mm
Objectives : 4XD, 10XD, 40XRD ( sealed) , 100XRD Oil
Condenser : Built-in spiral Abbe 1.25 NA ( sealed) with mechanical stage
Illuminator : Rechargeable LED with Dimmer Switch
---
Microscope
Model : LABOMED® Luxeo 4Z
Delivers superior optical and mechanical quality in a sleek package. Thanks to the patented Luxeo 360® LED ring light, it offers adjustable incident lighting angles that help illuminate specimens of different heights and sizes.
The continuous zoom system enables you to enjoy brilliant images that are true to life. Sturdy construction and ergonomic controls.
Magnification: 8x- 35x. Eyepiece: 10x/ 20x Fixed. Viewing Angle: 45° . Object Field Diameter: 5.7mm to 25mm. Electrical: Universal from 100V to 240V, voltage sensitive, integrated.
---