Indoor Air Quality (IAQ)

" NEW PRODUCT"

WIRELESS ENVIRONMENTAL MONITOR SYSTEM

Monitoring Kualitas Lingkungan dengan Menggunakan SMART PHONE (Android),

parameter yang dapat diukur : * CO + NOx + Noise + Humidity +
Temperature Monitor, * CO2 Monitor. * O3 + UV + Relative Humidity + Temperature Monitor.* Particle Monitor : PM> 1u.* Radiations Monitor :
(alpha, beta, gamma).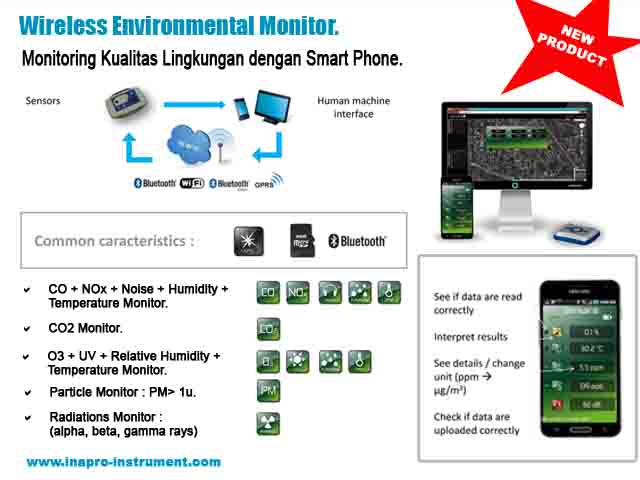 ---

THE MOST HIT IR+PSYCHROMETER IN THE HVAC/R MARKET! MORE
CONVENIENT TO CARRY AND STORE THAN
INDIVIDUAL METER WITH A HUMIDITY PROBE DESIGN!
* UNIQUE DESIGN WITH 3 H.V.A.C&R MUST PARAMETER IN 1
* LASER INFRARED THERMOMETER. MEASURE TEMP. RANGE FROM -40oF TO 932oF, EMISSIVITY ADJUSTABLE, BACKLIGHT
* DIGITAL SLING PSYCHROMETER CALCULATE WET BULB, DEW POINT IN SECONDS AND T1-T2 (SURFACE TO DEW
* POINT).ENVIRONMENT THERMOMETER MEASURE FROM - 20oC TO 50oC
* RELATIVE HUMIDITY MEASURES 0-100% BY ROTRONIC SENSOR.
* PROTECT SENSOR BY DESIGNING GEAR DAMPER DEVICE
---
FEATURES:

- Non-Dispersive Infrared (NDIR) CO2 sensor ensures long-term stability and durability.
- 4 Measurements: CO2, CO2 Ventilation Rate, Temperature and Humidity.
- Datalogging 75,000 records with fast USB download.
- Large, easy-to-read display: ºC, ºF, %RH, CO2 (PPM).
- CO2 reading adjusted for altitude changes.
- Measurement range from 0~10,000 PPM.
---

Features & Applications:

This indoor air quality (IAQ) meter measures ambient
CO2, temperature, relative humidity, dew point, wet bulb, CO,
and calculate percentage outside air. You are allowed to log up to 10,000
readings in 1 second to 1 hour intervals and then download to a computer using
the A368 USB cable.

Features:
* Calculate percent outside air to maintain acceptable CO2 levels in buildings
and work spaces
* Measure and display Carbon Dioxide (CO2) and Carbon Monoxide
* Measure ambient air temperature
* Measure relative humidity, dew point and wet bulb
* Log up to 10,000 readings in 1 second to 1 hour intervals
* Download to a computer using the A368 USB cable